Hank Azaria won't let son watch 'The Smurfs 2'
Los Angeles, August 2: Hank Azaria, who has lent his voice for evil wizard Gargamel in "The Smurfs 2", doesn't want to show the 3D animation movie to his four-year-old son. The doting father wants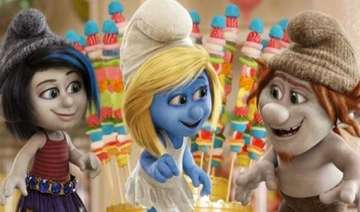 IANS
August 02, 2013 7:45 IST
Los Angeles, August 2:
Hank Azaria, who has lent his voice for evil wizard Gargamel in "The Smurfs 2", doesn't want to show the 3D animation movie to his four-year-old son. The doting father wants to keep the little one away from "horrible villains".
Azaria let his son Hal watch the first instalment of the movie in 2011 as he was too young to understand the story.
"He was on set and was only one-year-old when we were shooting the first movie, and he was just barely two at the premier. I had him on my lap thinking he would probably only stand 20 minutes of the film, being so young, but he was happy throughout the whole movie," Azaria said in a statement.
"He knew me as Gargamel because he's seen me enough in that get-up and when I would leave the screen he would go, 'Where dada go?' He was really cute and it was really sweet having him on my lap saying that," he added.
Azaria, who has acted in TV shows like "Friends" and "Mad About You" , has no plans of showing the sequel of the film to his son right now.
"We are not going to let him watch this one because he is old enough now to know that Gargamel is being very cruel and I think it might flip him out a little bit," he said.
Once Azaria is confident that Hal is old enough to differentiate between reel and real life, he would let him watch it.
"We will have to wait a few years when I know that he can handle it and know that it is 'make believe'. Right now he believes movies are real. We have kept him from a lot of movies and he doesn't have nightmares. That's a big reason why. He is not too aware of horrible villains and things like that," said the actor, who takes care of his voice during recording of the film.
Azaria has lent his voice for animated TV series "The Simpsons" and said he used sprays and lotions to take care of his voice while recording for "The Smurfs 2".
"I have to block out a day after I do my Smurfette voice because it's a bit difficult on my own voice. It is a whole bit of vocal gymnastics, but in a completely different way. So, I have to be careful. I use lots of sprays and potions and lotions and things like that," said Azaria.
"The Smurfs 2", a co-production of Sony Pictures Animation and Columbia Pictures, will hit the screens Aug 2 in India.