Jack Osbourne to become father again
Los Angeles, Aug 8: Television personality Jack Osbourne and her wife Lisa Stelly are expecting their second child.The couple, who welcomed their first child, a daughter named Pearl in April 2012, are "super excited" to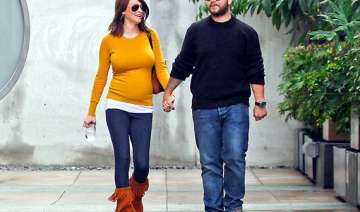 PTI
August 08, 2013 7:30 IST
Los Angeles, Aug 8:
Television personality Jack Osbourne and her wife Lisa Stelly are expecting their second child.
The couple, who welcomed their first child, a daughter named Pearl in April 2012, are "super excited" to expand their family, reports femalefirst.co.uk.
Confirming the news on her blog Raddest Mom Tuesday, Stelly posted: "Jack and I are super excited to share with you all that we are expecting our second baby! I am in my second trimester, feeling great a nd trying not to eat everything in sight."
"We feel so blessed that our family is growing & Pearl will have a little brother or sister to play with. It's crazy to think that we will soon be a family of four," she added.