Lopez's beau terms romance rumours 'nasty'
Los Angeles: Singer-actress Jennifer Lopez's dancer boyfriend Casper Smart has responded to reports that he's been flirting with a transgender model behind the pop superstar's back. He has called the story "nasty".Smart was absent from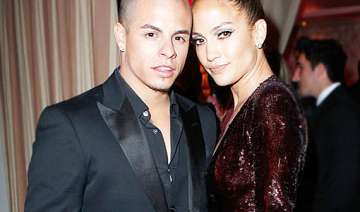 India TV News Desk
June 06, 2014 16:57 IST
Los Angeles:
Singer-actress Jennifer Lopez's dancer boyfriend Casper Smart has responded to reports that he's been flirting with a transgender model behind the pop superstar's back. He has called the story "nasty".
Smart was absent from Lopez's homecoming show in The Bronx, New York Wednesday night, but he insists that has nothing to do with the controversy, reports contactmusic.com.
Smart, who has been dating Lopez since her marriage to Marc Anthony fell apart, is in South America promoting a new film, and from there, he issued a clarification post on his Instagram.com page.
He wrote: "(It's) sad what the media does to people...Along with this nasty story. Thanks. Could you imagine if people came at you, your wife, your kids daily."
His comments came as transsexual model Sofie Vissa broke her silence about alleged flirty messages she received from Smart, who reportedly begged her to share nude photos with him.
Vissa told In Touch magazine: "I'd put the hashtags #Ts, #Shemale and #transgendered on one of my photos, and when I went back to look at my phone, I'd gotten a request to follow me from Casper. As soon as I approved him, he started 'liking' a lot of my pictures. He liked at least 20 to 30 pictures."