John Legend shows off his $2.5 mn house
New York: Singer John Legend and his wife Chrissy Teigen have opened the doors to their $2.5m downtown Manhattan house.The couple moved into the one-bedroom apartment on the border of New York City's Little Italy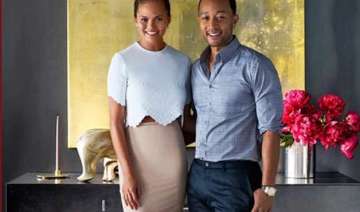 IANS
January 07, 2015 12:32 IST
New York: Singer John Legend and his wife Chrissy Teigen have opened the doors to their $2.5m downtown Manhattan house.
The couple moved into the one-bedroom apartment on the border of New York City's Little Italy and Nolita neighbourhoods prior to their September 2013 wedding, telling the Architectural Digest magazine that they were attracted to the space's dark, moody atmosphere, reports dailymail.co.uk.
'We tend to look for the opposite of what most people want," said Legend.
The couple's favourite part of the apartment is the large kitchen.
Teigen said: "This apartment just embodies everything that I love. I love dark and rustic, but it's still very clean and very chic. It feels like our place in LA, but in New York."
The couple recently sold their Hollywood Hills house for $2 million.
They purchased the Little Italy house, which is 1,969 square feet, for $2,494,712 in February 2013.