Johnny Depp To Play Vampire In Tim Burton's Dark Shadows
London, Jan 21: Johnny Depp is all set to portray the character of a vampire in his latest movie Dark Shadows. The 48-year-old veteran actor plays pale-faced and long finger-nailed vampire Barnabas Collins in a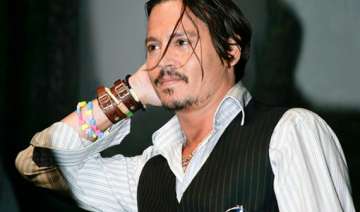 PTI
January 21, 2012 20:10 IST
London, Jan 21: Johnny Depp is all set to portray the character of a vampire in his latest movie Dark Shadows.

The 48-year-old veteran actor plays pale-faced and long finger-nailed vampire Barnabas Collins in a new Tim Burton film, based on a 1960s TV drama of the same name, the Mirror reported.

The film revolves around Barnabas' encounter with monsters, witches, werewolves and other fictional creatures. 

It also stars Michelle Phieffer and Eva Green, who plays a witch whose heart is broken by Barnabas and who then turns him into a vampire out of revenge.