Jon Bon Jovi donates $1 mn to hurricane victims
Los Angeles, July 10: Singer Jon Bon Jovi has donated $1 million to the Hurricane Sandy relief efforts in his native New Jersey.The amount will be used for repairing damaged homes and other establishments in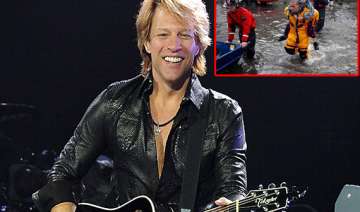 IANS
July 10, 2013 9:08 IST
Los Angeles, July 10:
Singer Jon Bon Jovi has donated $1 million to the Hurricane Sandy relief efforts in his native New Jersey.
The amount will be used for repairing damaged homes and other establishments in various communities, reports contactmusic.com.
The state was destroyed by the storm in October.
"Natural disasters spare no one. But you can't imagine the devastation, destruction and despair until Mother Nature takes aim at your home town," he said.
"This is bittersweet; it's heartbreaking to see our fellow New Jerseyans so affected by the ravages of Hurricane Sandy, but we're happy to make the donation and offer real, substantial help to the residents of Sayreville and the nearby, low-lying communities as they rebuild their homes and lives," added the lead singer of band Bon Jovi.
He had earlier lent his support to Hurricane Sandy relief efforts by performing at a concert in December 2012.