Katy Perry entertains with poor pronunciation
Los, Angeles: Pop superstar Katy Perry left an Australian TV show team in hysterics when she mispronounced the names of some of the country's most famous cities while reading the weather forecast.The 29-year-old was asked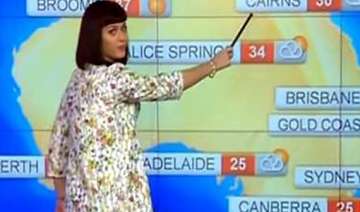 PTI
March 06, 2014 11:09 IST
Los, Angeles:
Pop superstar Katy Perry left an Australian TV show team in hysterics when she mispronounced the names of some of the country's most famous cities while reading the weather forecast.
The 29-year-old was asked to read out the forecast during her appearance on Channel 7's show "Sunrise", where she incorrectly pronounced the names of some of Australia's best-known destinations, reports contactmusic.com.
The "Sunrise" team laughed when she said the name Cairns wrong and burst into hysterical laughter when she pronounced the country's capital city, Canberra, as "Curnaberra".