Keegan, Wright spotted holidaying in Dubai
London, TV star Michelle Keegan was spotted holidaying in Dubai with fiance Mark Wright.It was in Dubai itself that the couple had met on a New Year's break in Dubai back in December 2011, and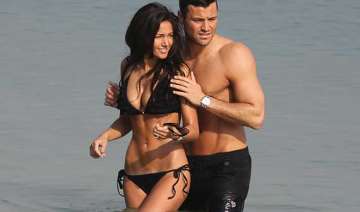 PTI
March 10, 2014 23:03 IST
London
, TV star Michelle Keegan was spotted holidaying in Dubai with fiance Mark Wright.
It was in Dubai itself that the couple had met on a New Year's break in Dubai back in December 2011, and they got engaged in September 2012 in the Middle Eastern holiday hotspot.
During the current holiday, the 26-year-old actress displayed her toned and tanned legs in a multi-coloured, tribal print bandeau playsuit.
The former "Coronation Street" star flaunted her golden holiday skin in the skimpy number, striking natural features with minimal make-up, and wore her flowing raven locks pushed back from her face with a pair of oversized shades.
The 27-year-old actor covered up his muscular physique in a simple black T-shirt, and teamed it up with shorts and flip-flops.
The couple took pictures while enjoying a stroll at the seaside.
Wright also kissed his wife-to-be's head as they made their way inside the hotel. They spent some time enjoying the vibrant nightlife of Dubai too.
"Partying at Blue Marlin, Dubai! A couple that raves together stays together," the actor captioned a photograph of their sojourn, on Twitter.