Kendra Wilkinson wants another baby
Los Angeles, July 9: Former Playboy model Kendra Wilkinson wants to have another child with husband Hank Baskett and says "parenting has the power to bring a couple closer".The couple has a three-year-old son Hank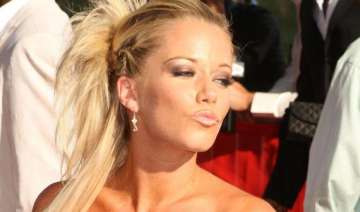 IANS
July 09, 2013 8:52 IST
Los Angeles, July 9:
Former Playboy model Kendra Wilkinson wants to have another child with husband Hank Baskett and says "parenting has the power to bring a couple closer".
The couple has a three-year-old son Hank Baskett IV, reports femalefirst.co.uk.
"I want baby number two. We really connected and had the most romantic time on a trip to celebrate my 28th birthday last month. That's when we actually started talking baby. We're starting to try shortly," said Wilkinson, 28.
She doesn't care whether they have a son or a daughter, as long as the baby is healthy and happy.
She said: "Before I was a parent, I used to think it was so cheesy when people said this, but honestly as long as he or she is healthy, that's all I care about."
"Parenting has the power to bring a couple closer. You realise you're the only two people raising this amazing child, so you have to work together. It also makes you appreciate time together as a couple, because along time is harder to come by," she added.