Khloe Kardashian buys Bieber's Calabasas home
Los Angeles: Reality TV star Khloe Kardashian has bought pop star Justin Bieber's Calabasas home in California.Bieber decided to move out of the massive house in January after a number of run-ins with the local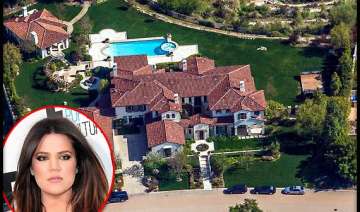 PTI
March 07, 2014 16:57 IST
Los Angeles:
Reality TV star Khloe Kardashian has bought pop star Justin Bieber's Calabasas home in California.
Bieber decided to move out of the massive house in January after a number of run-ins with the local residents and the police. He finally found a buyer in Khloe, reports mirror.co.uk.
According to tmz.com, Bieber has made a profit of $1 million on the property. Bieber bought the house in 2012 for $6 million and is selling it for $7.2 million.
After filing for divorce from her former husband Lamar Odom in December, Khloe sold her Tarzana property to Big Bang Theory star, Kaley Cuoco.
It seems she's got some cash to spare after selling her former marital home for $5.49 million, and putting in an extra $1.72 million to buy Bieber's house.