Kourtney Kardashian-Scott Disick: Mommy Kris Jenner wants couple to tie the knot soon
Los Angeles: Now that Kourtney Kardashian is expecting her third child with long-time beau Scott Disick, her mother Kris Jenner believes the couple should get married.The 58-year-old is thrilled the couple, who already have kids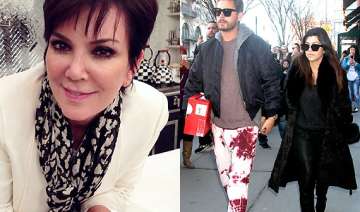 IANS
June 11, 2014 11:21 IST
Los Angeles:
Now that Kourtney Kardashian is expecting her third child with long-time beau Scott Disick, her mother Kris Jenner believes the couple should get married.
The 58-year-old is thrilled the couple, who already have kids Mason, four, and Penelope, 23 months, are expecting their third child together. The duo has been together for eight years now, and Kris doesn't understand why they haven't walked down the aisle yet.
"Committing to parent three kids, when you haven't even committed to each other doesn't cut it in Kris' book. She comes from a time when, if a girl got pregnant and was still single, she got married as soon as possible," contactmusic.com quoted a source as saying.
"And although she understands times have changed, she still has religious values and feels it's only right that Scott make an 'honest woman' out of her little girl," the source added.