Kutcher rings NYSE opening bell to promote Jobs biopic
New York, Aug 8: Actor Ashton Kutcher was at the New York Stock Exchange at the traditional daily market opening ceremony to promote his latest film, "Jobs", in which he portrays the late Apple cofounder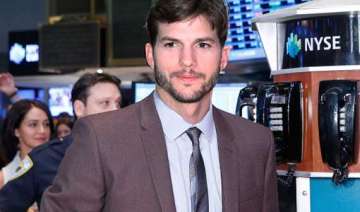 IANS
August 08, 2013 7:13 IST
New York, Aug 8:
Actor Ashton Kutcher was at the New York Stock Exchange at the traditional daily market opening ceremony to promote his latest film, "Jobs", in which he portrays the late Apple cofounder Steve Jobs. 
Dozens of stock brokers, reporters and curious onlookers crowded around to witness the event.
Kutcher could not resist imitating a stereotypical stock broker by holding two telephones to both ears on the trading floor as if he were executing buy orders for millions of dollars.
Dressed in a simple brown suit and blue shirt, Kutcher came to the New York trading floor wearing the same beard he had grown to portray Jobs in the film that focuses on the career beginnings of the creator of the iPhone in Silicon Valley.
The film, which will begin showing in US theaters Aug 16, was directed by Joshua Stern and has generated great anticipation among moviegoers because it deals with the life of the ever-controversial Steve Jobs, who died in October 2011 after a long battle with cancer.