Kylie Jenner got birthday kiss from Drake
Los Angeles: Reality TV star-model Kylie Jenner received a kiss on her cheek from rapper Drake after he performed at her birthday party.The teenager, who turned 16 on Aug 10, got the kiss infront of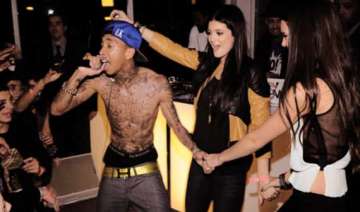 IANS
August 20, 2013 6:10 IST
Los Angeles
: Reality TV star-model Kylie Jenner received a kiss on her cheek from rapper Drake after he performed at her birthday party.
The teenager, who turned 16 on Aug 10, got the kiss infront of actor Jaden Smit, whom she is reportedly dating, at her Alice In Wonderland themed bash here, reports dailymail.co.uk.
Kylie's mother Kris Jenner tweeted the photograph on her Instagram page.
She posted: "Wow wow what an amazing night. I hope you had the most wonderful birthday! Thank you Drake."
Drake and hip-hop artist Big Sean performed some of their biggest hits at the birthday party organised at the AT&T Centre in downtown Los Angeles.
Even Kylie shared a short Instagram video of Drake putting one of his gold chains around her neck whilst he rapped.
"This happened," she posted along with the short clip.