Lady Gaga's skin show on the road
New York, Jul 15: Singer Lady Gaga, known for her eccentric dressing style, was seen taking a stroll on the road in a brassiere and mini skirt.The 27-year-old seemed to be comfortable with herself as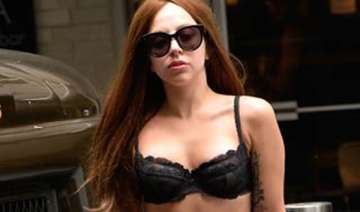 IANS
July 15, 2013 7:28 IST
New York, Jul 15:
Singer Lady Gaga, known for her eccentric dressing style, was seen taking a stroll on the road in a brassiere and mini skirt.
The 27-year-old seemed to be comfortable with herself as she paired her dress with stiletto boots and sunglasses, reports thesun.co.uk.
Gaga, who underwent hip surgery and was confined to a wheelchair in February, is ready to rock the stage at the Roundhouse Hall in September.