Rapper Ludacris marries Eudoxie Mbouguiengue
Los Angeles: Rapper Ludacris and his longtime girlfriend Eudoxie Mbouguiengue entered 2015 as a married couple.Without offering any details on the surprise ceremony, the rapper posted a photograph of himself dressed in a black and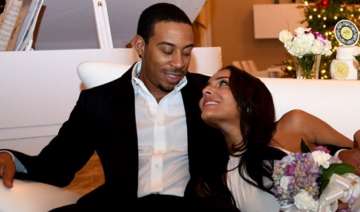 IANS
January 08, 2015 6:57 IST
Los Angeles: Rapper Ludacris and his longtime girlfriend Eudoxie Mbouguiengue entered 2015 as a married couple.
Without offering any details on the surprise ceremony, the rapper posted a photograph of himself dressed in a black and white tuxedo beside his bride with the caption: "Why wait? Did the thing before 2015. #mrandmrsrbridges", reports eonline.com.
According to a source, it was a "beautiful wedding".
"The wedding was small and only close friends and family were in attendance. Ludacris was so thrilled to be getting married and (was) filled with such love for his lady. He was a bit nervous when it was happening but in a very good kinda way," added the source.
His wife also took to Instagram to post a few pictures from their special day.
"Great way to go into the new year," she captioned one photograph.
So are they planning babies already?
"They both want children so that's something that will likely happen in the next year," the source shared.
The rapper popped the question to the lady he's been dating since 2009, in an extravagant way, according to Mbouguiengue's Instagram post.
Ludacris took her up on what looked to be a private jet and a message was projected on the ground below them.
The message was -- "Eudoxie will you marry me?"
"Best day of my life with the love of my life," she captioned the picture.