Matthew Morrison praises Lea Michele
Los Angeles: Actor Matthew Morrison has praised his "Glee" co-star Lea Michele for her strength post the death of her boyfriend Cory Monteith.Monteith, who played Finn in "Glee", died last month following consumption of a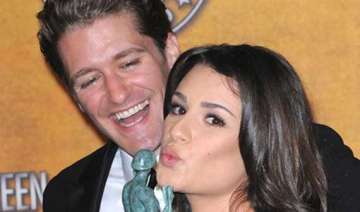 IANS
August 27, 2013 16:31 IST
Los Angeles:
Actor Matthew Morrison has praised his "Glee" co-star Lea Michele for her strength post the death of her boyfriend Cory Monteith.
Monteith, who played Finn in "Glee", died last month following consumption of a lethal combination of heroin and alcohol.
The "Glee" cast is now filming the death of Monteith's character in the show.
"We're in the middle of filming it, and it's incredibly hard. We've mourned Cory, but now we're mourning Finn. So it's kind of like two people in that one person," eonline.com quoted Morrison, who plays the role of Will Schuester in the show, as saying.
"It's incredibly hard and we're staying strong together and I have to say Lea (Michele) has been the most strongest of all of us," he added.
Monteith was found dead in a hotel room in Vancouver July 13.