Meghan Trainor didn't know Harry Styles knew her
Los Angeles: Singer Meghan Trainor says she thought that One Direction band member Harry Styles never even knew she existed before they worked together, but he dispelled her notion.The 21-year-old star, who shot to fame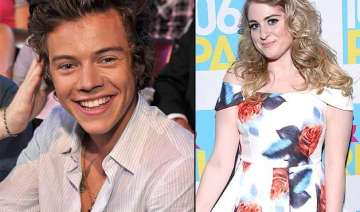 India TV News Desk
January 22, 2015 12:23 IST
Los Angeles: Singer Meghan Trainor says she thought that One Direction band member Harry Styles never even knew she existed before they worked together, but he dispelled her notion.
The 21-year-old star, who shot to fame last year when her single "All about that bass" hit the number one spot around the world, has teamed up with the One Direction singer to write a song.
It is yet to be recorded and when she got over the shock, she was "very impressed" with his songwriting ability, reports femalefirst.co.uk.
"I had no idea he knew I existed and apparently he was a fan and one of our agents hooked us up and got us a session and we just wrote one evening. It was unbelievable he's a very, very talented songwriter. I was very impressed," she said speaking on BBC Radio 1.
Trainor received a Record of the Year nomination for the Grammy Awards for her hit single, "All about that bass" and while she admits it is a "dream come true" to be recognised for the accolade, she is "nervous" about the ceremony Feb 8 because she hasn't decided what to wear.
"I have no idea what I'm wearing. They claim that someone's going to build one for me... I wasn't nervous until I saw the Golden Globes and everyone was all over Lorde saying, 'What's she gonna wear'," she said.