Miley Cyrus' new album titled 'Bangerz'
Los Angeles, Aug 8: Singer Miley Cyrus has revealed that her new album will be called "Bangerz". The 20-year-old revealed the name via Twitter as a reward to her fans, reports contactmusic.com. The count for her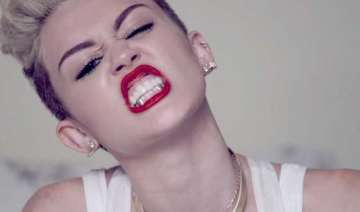 IANS
August 08, 2013 7:13 IST
Los Angeles, Aug 8:
Singer Miley Cyrus has revealed that her new album will be called "Bangerz". 
The 20-year-old revealed the name via Twitter as a reward to her fans, reports contactmusic.com. The count for her followers on the microblogging site touched 13 million on
"If you don't know why my record is called 'Bangerz' you'll know as soon as you hear it. Nothin' but 'Bangerz'," Cyrus tweeted.
The singer had earlier promised that she would make the big announcement the day number of her followers reached 13 million.
"Can't wait to announce my album title #Miley To 13 Million," she had earlier posted.
"Bangerz" is a follow up of Cyrus's 2010 album "Can't Be Tamed".