Spy trailer: Mellissa McCarthy takes you to the world of laughter and suspense (watch video)
New Delhi: The trailer of 'Spy,' a new action comedy film from director Paul Feig has been unveiled. The director who has delivered films like 'Bridesmaids' and 'The Heat' earlier is back with her most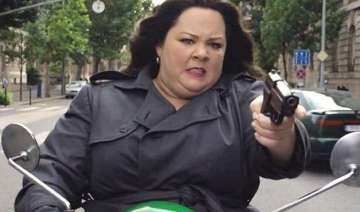 India TV Entertainment Desk
January 17, 2015 11:25 IST
New Delhi: The trailer of 'Spy,' a new action comedy film from director Paul Feig has been unveiled. The director who has delivered films like 'Bridesmaids' and 'The Heat' earlier is back with her most trusted Melissa McCarthy in 'Spy'.
Starring Brits Jude Law, Jason Statham, Miranda Hart and Nargis Fakhri in other pivotal roles, 'Spy' looks all hilarious with its trailer.
McCarthy, who had performed in Feig's both 'Bridesmaids' and 'The Heat,' plays a CIA analyst who goes undercover to prevent a global disaster.
In the trailer, the humorous actress is seen adopting a disguised look during her mission, being ridiculed due to her talkative skills and even falling off from a scooter. However, the trailer would surprise you with the visuals showing McCarthy doing crazy stunts as she sets on a fight with various agents including our very own Nargis Fakhri.
Melissa who plays Susan Cooper in the film replaces CIA agents Jude Law and Jason Statham and begins her voyage of shielding the world.
Watch the trailer here...
While 'Spy' marks the Hollywood debut of Miranda Hart, it also stars Rose Byrne as the infernal villain.
'Spy' by Fox Star Studios is expected to release in May 2015.