Nicki Minaj Takes Over Times Square
New York, Apr 7: Times Square came to a standstill last night as thirty thousand people watched 26 year old rapper Nicki Minaj perform in what was one of the biggest electronic take-overs of the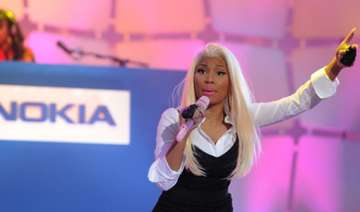 India TV News Desk
April 07, 2012 21:11 IST
New York, Apr 7:
Times Square came to a standstill last night as thirty thousand people watched 26 year old rapper Nicki Minaj perform in what was one of the biggest electronic take-overs of the New York landmark for the launch of the Nokia Lumia 900.
For international superstar Nicki Minaj, who sang a medly of tracks from her new album, "Pink Friday: Roman Reloaded" it was a dream come true, "This is like every little girl's dream come true, I could never imagine that I would be doing a show in the middle of Times Square and these people be singing every lyric and all that stuff."
Using the latest CGI technology the team behind the massive Hollywood blockbuster, i-Robot, created one of the world's largest LED displays. During the launch nine of the square's famous electronic screens were used to ensure the crowd was immersed in light and music from every direction.