Oprah Winfrey gifts 'Essence' cover dress to fan
Los Angeles: Talk show queen Oprah Winfrey has gifted the beautiful dress she wore for 'Essence' cover to one of her female fans.  Atlanta resident, Brandi (Twitter user @snobaby28), tweeted Winfrey about her love for the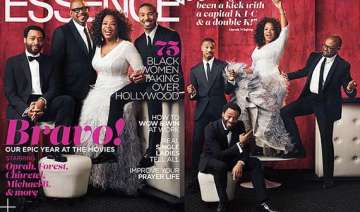 PTI
March 08, 2014 13:15 IST
Los Angeles
: Talk show queen Oprah Winfrey has gifted the beautiful dress she wore for 'Essence' cover to one of her female fans.  
Atlanta resident, Brandi (Twitter user @snobaby28), tweeted Winfrey about her love for the dress, joking "I know u won't wear again." Said Oprah, "You're right, I won't," and directed Brandi to reach out to her assistant to get the exchange underway, reports people.com.  
A week later her fan, Brandi tweeted her saying, "Thank You! Received the beautiful dress. Plan to wear at my wedding when I find a groom. LOL. But will tweet pic wearing it soon. Love you to life? (sic)"