Ora plans duet with Timberlake
London, July 17: Singer Rita Ora might get a chance to duet with Justin Timberlake after befriending his wife Jessica Biel.Ora met Biel at the recently held Yahoo! Wireless festival here and the two ladies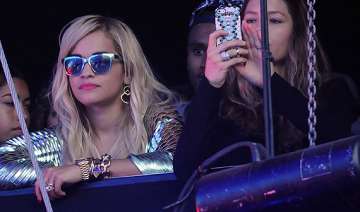 IANS
July 17, 2013 17:57 IST
London, July 17:
Singer Rita Ora might get a chance to duet with Justin Timberlake after befriending his wife Jessica Biel.
Ora met Biel at the recently held Yahoo! Wireless festival here and the two ladies bonded well while Timberlake performed on the stage.
"Rita and Jessica really hit it off because they were both standing looking adoringly at Justin as he played his set," thesun.co.uk quoted a source as saying.
"Jessica saw how enamoured Rita was with her husband's performance and got chatting to her," the source added.
Biel has reportedly put in a word of recommendation to Timberlake.
"She put a word in with Justin afterwards and now Rita and he could be working together very soon," a source said.