Oscars 2014: Ellen DeGeneres'selfie goes viral, crashes Twitter
Ellen DeGeneres the host of Oscars 2014 was quite active during the awards ceremony and kept everyone on their toes with her brilliant performance.During the ceremony, she kept tweeting about the event and also clicked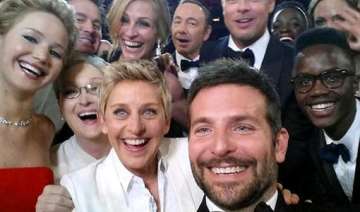 India TV Entertainment Desk
03 Mar 2014, 14:18:07 PM IST
Ellen DeGeneres the host of Oscars 2014 was quite active during the awards ceremony and kept everyone on their toes with her brilliant performance.
During the ceremony, she kept tweeting about the event and also clicked 'the best selfie in the history'. Ellen prevailed upon actor Bradley Cooper to take a picture with her and several other stars crowding around, including Meryl Streep, Jennifer Lawrence, Kevin Spacey, Angelina Jolie and Brad Pitt.
Now this selfie has gone viral and has been retweeted more than 2 million times, breaking a record set by President Barack Obama with the picture of him hugging first lady Michelle Obama after his re-election in 2012.
Twitter also sent out an apology because all of the retweeting disrupted service for more than 20 minutes after 10 p.m.