Oscars 2014: Angelina Jolie, Julia Roberts, Penelope sizzle at the red carpet (see pics)
Oscars 2014, the much awaited event and the celebration of cinema from around the world has kick started with the splash of dazzling celebrities. From Holywood A-listers to the biggies round the globe associated with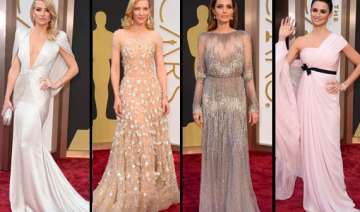 India TV Entertainment Desk
March 04, 2014 6:50 IST
Oscars 2014, the much awaited event and the celebration of cinema from around the world has kick started with the splash of dazzling celebrities.
From Holywood A-listers to the biggies round the globe associated with cinema, it is the time to honour the best of last year's cinema. The gorgeous divas including Kate Hudson, Angelina Jolie, Emma Watson amongst many others sizzle at the red carpet of the prestigious event.
Here follows a few pictures from the red carpet of Academy Awards 2014. Take a look!