Ricky Martin Lives 'Evita' Loca At NY Premiere
London, Apr 6: It was Livin' Evita Loca Thursday night in New York as Ricky Martin came back to Broadway in "Evita," a revival of the 1979 Tony-winning play.The recording artist best known for the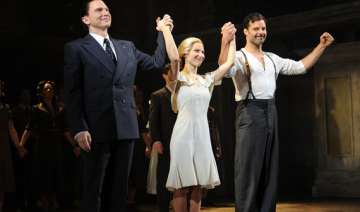 India TV News Desk
April 06, 2012 18:40 IST
London, Apr 6:
It was Livin' Evita Loca Thursday night in New York as Ricky Martin came back to Broadway in "Evita," a revival of the 1979 Tony-winning play.
The recording artist best known for the infectious hit "Livin' la Vida Loca" had previously starred on Broadway in "Les Miserables."
But this time it was special.
"(It's) the most amazing opportunity I've had in the last, probably 15 years," Martin said at Thursday night's premiere of the show. "I'm someone very thankful for everything that I've done and everything that I've been through in my career. I've done everything I've wanted. But to be able to come to New York, to be part of the Broadway community again, and to be surrounded by such an amazing cast, to be directed by Michael Grandage. Rob Ashford is an amazing choreographer. It just doesn't get better," Martin said.
Andrew Lloyd Webber's masterpiece tells the story of Eva Peron and the short, tumultuous period of her life in Argentina in the early part of the Twentieth Century.
Grammy Award-winner Martin plays Che, the spokesman of the working class.
Martin sings beautifully, dances gracefully, athletically climbs ladders, plays his role with a knowing sneer and elicits drools in his suspenders and tight white shirt. He even makes a mustache work.
But at heart, he's still quite shy and reserved about his performance.
"I'm glad that you say that, that I look comfortable on stage because I'm still human and sometimes I feel uncertain about things. But I guess it's a natural process of any actor or any entertainer at a premiere. But I am - I feel protected. I feel protected because once again the people that I'm surrounded with and it feels amazing," Martin said.
Martin was asked if "coming out" publicly helped.
"Oh well that helps a lot. Definitely. Yeah. No. I am just allowing myself to feel on stage and see lives though the life of this character who is a chameleon and enjoying the fact that I can be someone different every night on stage and just be the voice of the people. It's a gift that has just been given to me this year," Martin said.
And family life is good too. Martin and his partner, Carlos Gonzalez Abella are raising twin boys.
"Livin' la vida familia. That's a good one. Loving every minute of it. Loving every minute of it," Martin said.
The show also stars Elena Roger as the ambitious Eva Peron; and Michael Cerveris as Juan Peron.
The Argentine-born Roger starred in the 2006 revival in London.
"It is always special performing again after six years. I did it in London. And meeting again with the director and the choreographer and with the character it's quite special.  And being here on Broadway, it's amazing," Roger said.
Cerveris said the trio has good chemistry.
"We got to spend some time in Buenos Aires together, all three of us actually; Ricky was on tour there, and Elena lives there and I came down.  By the time we came to the first day of rehearsal, we felt like old friends. We felt like people we've known forever. It's just been the best little three musketeers hanging out and now that we're up and open, hopefully we'll get some time together outside the theater," Cerveris said.
The star studded guest list included Vanessa Williams, Kathy Griffin, 'Smash' star Will Chase, and 'Modern Family's' Jesse Tyler Ferguson.
Before curtain up, Ferguson shared his excitement about seeing the performance.
"I love 'Evita.' I think it's a fantastic show," he said. "I saw it in my community theater when I was 15 by the local Albuquerque players, so I have a feeling this might be a better production."
As for Williams, she felt her mother would be proud of Martin.
"He is so charismatic on stage and so solid and dynamic. And you can understand every word he says. My mother was a music teacher and his annunciation was perfect." Williams said.
Television and theater star Cheyenne Jackson has been a long time Ricky Martin fan.
"He's just got it. Capitol I-T," Jackson said.  "And I think now that he's come out publicly, and he's even more comfortable in his own skin, I think that permeates in every other facet of him. I've been a fan forever. I've been Livin la Vida Loca, and now watching him, it's going to be fun to see him come full circle."
The show's composer Lloyd Webber and lyricist Tim Rice were also at the opening and both joined the cast on stage for their closing bows.