Rihanna, Delevingne bond well on luxury holiday
Paris, July 15: Singer Rihanna and her new best friend Cara Delevingne were seen partying on a yacht in and around French Riviera. The two have reportedly spent a lot of money on the holiday.Both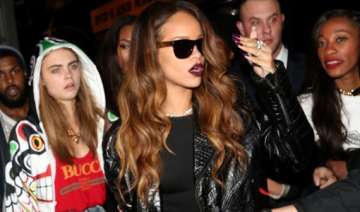 IANS
July 15, 2013 18:10 IST
Paris, July 15:
Singer Rihanna and her new best friend Cara Delevingne were seen partying on a yacht in and around French Riviera. The two have reportedly spent a lot of money on the holiday.
Both of them hired a luxury yacht for 300,000 pounds and spent almost 200,000 pounds on restaurant and nightclub bills, reports dailymail.co.uk.
They were seen enjoying endless number of drinks with friends and comfortably wore bikinis to enjoy the weather.
Delevingne, 20, was rarely to be seen without a drink in her hand. They now plan to follow the fortnight with a long weekend in Barbados to recuperate.
It was reported earlier that Delevingne wanted to take Rihanna, 25, out for a break to help her move on from a breakup with singer Chris Brown.