Rita Ora wasn't happy with her body
London, July 7: Actress-singer Rita Ora says she was ashamed of her body when she was a teenager and used to buy extra-tight pants for dance classes."There was a point in school when I didn't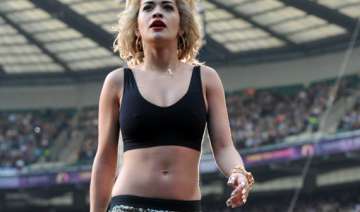 IANS
July 07, 2013 17:24 IST
London, July 7:
Actress-singer Rita Ora says she was ashamed of her body when she was a teenager and used to buy extra-tight pants for dance classes.
"There was a point in school when I didn't feel comfortable at all," dailystar.co.uk quoted the 22-year-old as saying.
"I matured quicker than the other girls. I had bigger breasts and a bigger bum - and hated it. I'd get extra-tight leotards for dance classes to flatten me because I was ashamed of my body," she added.