Sam Smith praises Taylor Swift as a 'role model'
London: Singer Sam Smith, who is gearing up for his first Grammy Awards both as a performer and as a nominee, has called Taylor Swift as a "role model" for many pop stars.In an interview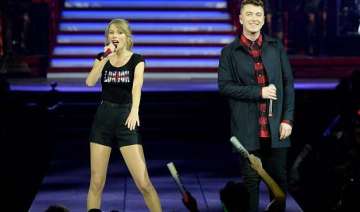 IANS
January 28, 2015 16:53 IST
London: Singer Sam Smith, who is gearing up for his first Grammy Awards both as a performer and as a nominee, has called Taylor Swift as a "role model" for many pop stars.
In an interview with GQ magazine, the 22-year-old said he wishes to be the "biggest star in the world", but he will not lose his mind or his humour for that like others, reports eonline.com.
"You know, I want to be the biggest star in the world, but I also want to maintain the soulfulness. I don't want to lose my mind or my humour. I want to be a pop star, but I also don't want to be a pop star," he said.
Although Smith doesn't have any issues being a pop star, he admits that some of them he met throughout his career haven't been the nicest.
"I will never act like some of the current pop stars have acted toward me," he shared without revealing any names.
"We can be friends, you know? We can. It's not a competition. There's space for all of us," he added.
One pop star who has been kind towards Smith is Swift. After singing with her in London and then hanging out at the 2014 American Music Awards, Smith was blown away by her kindness and talent.
"Taylor Swift is amazing...She's a role model. I really respect her. And she manages to sell a lot of records and make a lot of people happy financially, but also to keep that soulfulness, that honesty."
The 2015 Grammy Awards will take place Feb 8.