Steve Carell's 'Foxcatcher' role creeped out his parents
Los Angeles: Actor Steve Carell's role in "Foxcatcher" as convicted murderer John du Pont "creeped" out his parents.The former "Office" star said his parents weren't used to seeing him in a disturbing light, reports accesshollywood.com."I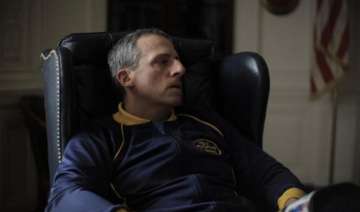 IANS
January 06, 2015 17:12 IST
Los Angeles: Actor Steve Carell's role in "Foxcatcher" as convicted murderer John du Pont "creeped" out his parents.
The former "Office" star said his parents weren't used to seeing him in a disturbing light, reports accesshollywood.com.
"I brought the screener home for Christmas and my parents watched it for the first time at their home in Massachusetts, and I got a call from my mom a couple of days later and she said, 'I can't stop thinking about it, it really got inside of me'," Carell said at the Palm Springs International Film Festival.
"They are 90, so they... it's really resonating with them. I think it creeped them out a little bit," he added.
The actor has already been nominated for a Golden Globe and SAG Award for his performance, and he is looking forward to the upcoming awards season.
"I have to get dressed up and go to these things. It's pretty cool," he added.
"Foxcatcher" also stars Channing Tatum and Mark Ruffalo.