Taylor Swift seeks love to write songs
Los Angeles, Aug 6: Singer Taylor Swift wishes to have a love life where someone can inspire her to write new songs.The 23-year-old is known for writing songs based on her experiences and past relationships."I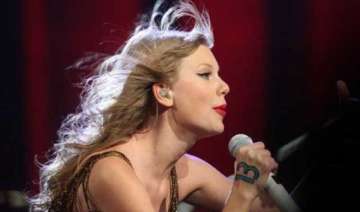 IANS
August 06, 2013 7:39 IST
Los Angeles, Aug 6:
Singer Taylor Swift wishes to have a love life where someone can inspire her to write new songs.
The 23-year-old is known for writing songs based on her experiences and past relationships.
"I am getting to a point where the only love worth being in is the love worth singing about," popcrush.com quoted Swift as saying.
The singer, who has dated Harry Styles, Taylor Lautner and Joe Jonas in the past, believes writing songs on emotions helps people connect more with her.
"And kind of mad love. I think that for me, when you experience something that's worth writing a song about, chances are, it's the same kind of intense feeling that someone else has felt, and it has led them to be sitting on a bedroom floor crying, or walking through a crowded room feeling alone or feeling misunderstood by the person who's supposed to know them better than anybody else," Swift said.