The Conjuring movie review
Film: "The Conjuring"; Cast: Ron Livingstone, Lili Taylor, Patrick Wilson, Vera Farmiga, Joey King, Linda Blair, Mackenzie Foy; Director: James Wan; Rating: ***  There is a rural house with its tragic history, a haunted family, creaky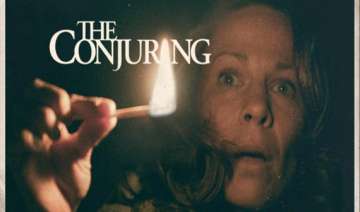 IANS
August 01, 2013 18:37 IST
Film
: "The Conjuring"; Cast: Ron Livingstone, Lili Taylor, Patrick Wilson, Vera Farmiga, Joey King, Linda Blair, Mackenzie Foy; Director: James Wan; Rating: ***  
There is a rural house with its tragic history, a haunted family, creaky doors, a spooky hidden cellar, a conduit and the exorcists. There is nothing new in 'The Conjuring' that one has not witnessed in a spooky atmospheric ghost stories. Yet, it is an exceptional film.
The film is a real life case story based on the horror experiences of the seven-member Perron family comprising Roger and Carolyn Perron and their five daughters - Andrea, Cindy, Nancy, Christine and April - who along with their dog Saddie moved into their country house in Harrisville, Rhode Island in the winter of 1971.
They witness strange things in the house and initially pass it off as hallucination. But then things spin beyond their control with mysterious goings-on.
After being spooked with uncanny activities in the house, Carolyn Perron invites the Warrens, Ed and Lorraine, well-known paranormal investigators and demonologists, to get rid of their troubles.
The duo, despite their own personal problems, brace themselves to help the Perrons.
It is the ladies, Lili Taylor as Carolyn Perron and Vera Farmiga as Lorrain Warren who steal the show. They demonstrate their pain along with their determination as well as helplessness with simple, yet effective, display of emotions.
Ron Livingston as Roger is bland and dead-pan. The only time he seems to be convincing is when he seems lost and helpless in the scenes his wife gets possessed.
Patrick as Ed Warren is humdrum though he has scope to perform. The young girls are adorable and have nothing much to offer in this horror drama.
Scripted by the twin Hayes brothers, Chad and Carey, the film has a look and feel that is so reminiscent of the family horror films of the 1970s. What sets the low-budget film apart is director James Wan's touch. It is easily his most refined film till date.
His previous movies like "Saw", "Dead Silence" and "Death Sentence" were out-an-out gory films. But this one is just rightly balanced.
He has invested the right amount of effort in building the characters and tautness in the film. He has ensured that there is no rhythm with the shock scenes and this unpredictability is what really spooks you out of your wits. There are times when he has inserted a few silly jump-scare edits, but on the whole there are several crucial moments that are stellar.
The setting of the house on the bank of a lake with a pier jutting into the water and the huge tree in the foreground adds to the mysterious elements.
The camera angles and placement too has contributed a lot to make it a visually smooth film. The frames are unique and the unusual device movement has helped in capturing some really jaw dropping moments.
"The Conjuring" is a finely crafted film that will spook the faint hearted and would amuse the bravehearts. Go watch it.