'The Fantastic Four' trailer debuts on Youtube, crosses 6 million views in a day (watch video)
New Delhi: 'The Fantastic four,' a reboot of 'Fantastic four' franchise has released its first teaser trailer and it has become an instant hit crossing 6 million views on Youtube in less than a day.Though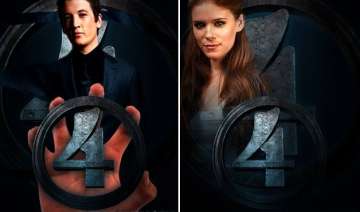 India TV Entertainment Desk
January 29, 2015 11:42 IST
New Delhi: 'The Fantastic four,' a reboot of 'Fantastic four' franchise has released its first teaser trailer and it has become an instant hit crossing 6 million views on Youtube in less than a day.
Though the teaser trailer has not created a frenzy like another superhero film, 'The Avengers', it has still created a curiosity among the fans. The trailer gives us a glimpse of the making of a whole new generation of the heroes.
The film is based on the comic book characters Mr. Fantastic, Invisible Woman, Human Torch and The Thing (collectively called Fantastic 4). The film will cover the story of their origin and how they acquired the superpowers.
Fantastic four is a story of young explorers, Reed Richards, Susan Storm, Johnny Storm and Ben Grimm who embark on a mission into space to study the origin of the earth. The scientists face a terrible accident on the mission that exposes them to cosmic rays, causing a mutation in their bodies. The mutation gives them superpowers that they use to help the mankind.
But this time in the reboot, the makers are trying to do something different than the original Fantastic Four story. In this version of the film, instead of traveling to space, the scientists will travel to another dimension of reality.
Starting with a glimpse in the childhood of young space explorers, the trailer moves on to their adult selves. The trailer further depicts their inter-dimensional travel.
Miles Teller will be playing the leader of the team Dr. Reed Richards or Mr. Fantastic. His love interest and teammate Susan Storm/Invisible Woman will be played by Kate Mara. Michael B. Jordan and Jamie Bell will portray the roles of Johnny Storm/Human Torch and Ben Grimm/The Thing respectively. The role of the antagonist Victor Domashev or Dr. Doom is to be played by Toby Kebbel.
Directed by Josh Trank, 'The Fantastic Four' is scheduled to release on August 7, 2015.
Watch the trailer here: