Val Kilmer supports Ben Affleck as Batman
Los Angeles: Several fans are unhappy with actor Ben Affleck slipping into the Batman role in director Zack Snyder's upcoming "Man of Steel" sequel, but actor Val Kilmer supports his fellow artiste.Kilmer, who once essayed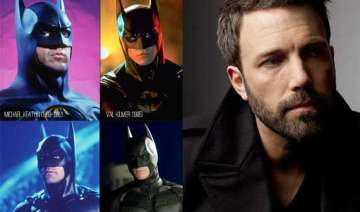 IANS
August 27, 2013 8:47 IST
Los Angeles:
Several fans are unhappy with actor Ben Affleck slipping into the Batman role in director Zack Snyder's upcoming "Man of Steel" sequel, but actor Val Kilmer supports his fellow artiste.
Kilmer, who once essayed Batman in the 1995 film "Batman Forever", took to micro-blogging website Twitter to support Affleck, reports aceshowbiz.com.
"Give Ben a chance!" read Kilmer's tweet.
Even director Joss Whedon, who is currently busy working on "Avengers: Age of Ultron", believes Affleck is the right man for the role.
"Affleck'll crush it," Whedon posted on Twitter.
He then explained it further and tweeted: "He's got the chops, he's got the chin - just needs the material. Affleck & Cavill toe to toe - I'm in."
Affleck was officially announced as the new Bruce Wayne Aug 22. Not long after the revelation, many took to Twitter to voice their disappointment with the casting news. An online petition has also been launched to urge Warner Bros studio to drop him.