Hangover star Zach Galifianakis slims down, sports man bun
Los Angeles: "The Hangover" star Zach Galifianakis made heads turn with his new look at the Screen Actors Guild (SAG) Awards here. He has not just slimmed down, but also flaunted a sleek man bun."I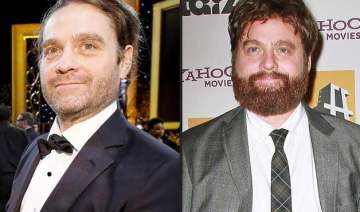 IANS
January 26, 2015 15:25 IST
Los Angeles: "The Hangover" star Zach Galifianakis made heads turn with his new look at the Screen Actors Guild (SAG) Awards here. He has not just slimmed down, but also flaunted a sleek man bun.
"I am Zach Galifianakis and I am an actor," said the "Birdman" actor as he turned around in his chair and looked into the camera, reports people.com.
The actor was sans his signature bushy beard, and instead flaunted a sleek bun and light stubble. This apart, he also impressed with his much thinner physique.
Galifianakis first debuted his major weight loss in October 2014 at a "Birdman" screening. It seems he has continued to slim down.