Here's why TV actresses are posting
Here's why TV actresses are posting pictures with a 'Shaving Razor' on Social Media
India TV Entertainment Desk
Mumbai
05 Mar 2017, 14:48:08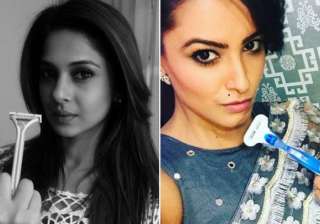 The recent pictures posted by many TV actresses have taken their fans by surprise. From the past few days, many famous TV personalities have been posting their selfies with a 'Shaving Razor'. Yes, you heard it right. 
Actually, the women from Television world have come together for a bold motive. They are a part of #ShaveYourOpinion campaign. This campaign has started on social media against all those who judge a woman for the clothes she's wearing. 
TV actress Jennifer Winget, who is currently playing the role of Maaya in 'Beyhadh' and 'Shagun' of 'Yeh Hai Mohabbatein' have posted a selfie with a razor in their hands. They posted their selfies with razor on their Instagram account with a hashtag #ShaveYourOpinion
​
Society has always been judgmental about a woman's clothing. People are keen on showering their advices to the women on what to wear and how to wear. Their clothes are held responsible for everything that happens to a woman.  #ShaveYourOpinion is a tight slap on the cheeks of every single person who judges a woman for her choice of clothes. 
A few days back, singer Monali Thakur was trolled and shamed for wearing a short dress on the singing reality show 'Rising Star'. This incident threw light on the extent of social media trolling that is prevalent nowadays. Though, she gave a befitting reply to all those trolls. 
It's high time that we should stop telling our women how to dress and instead, teach our men how to behave.