2012 Gets Ahead Of Rivals At Box Office
North American film-goers favored the apocalypse over Christmas this weekend as disaster flick "2012" beat Disney's "A Christmas Carol" to top the box office, according to early estimates Sunday.Trend-trackers Exhibitor Relations said the loosely Mayan-inspired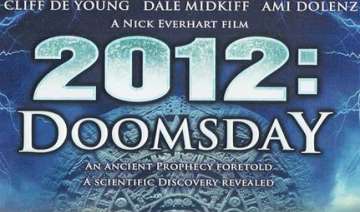 PTI
November 16, 2009 23:36 IST
North American film-goers favored the apocalypse over Christmas this weekend as disaster flick "2012" beat Disney's "A Christmas Carol" to top the box office, according to early estimates Sunday.
Trend-trackers Exhibitor Relations said the loosely Mayan-inspired tale of the world's end -- replete with computer-generated imagery -- totted up nearly half of all box office receipts in its opening weekend.
Starring John Cusack ("Grosse Pointe Blank" and "High Fidelity") it tracks the plight of humans after December 21, 2012, when a host of geological and astrological catastrophes befall the Earth.
Helped by a massive advertising budget, the film created a stir before its release when the US space agency NASA set up a website to debunk its central myth that the world will end along with the Mayan calendar in 2012.
The publicity appears to have been enough for director Roland Emmerich (Independence Day) and the crew to claw back just over a quarter of the movie's reported 200-million-dollar production budget.
Viewers meanwhile said "bah humbug" to "Christmas Carol," which slipped to second place after debuting at number one last week.
The adaptation of Charles Dickens' classic tale, features Jim Carrey as Ebenezer Scrooge.
"The Men Who Stare at Goats" remained at number three, a satirical comedy stars George Clooney as a member of an elite US military force that uses mind control as a weapon.
The drama "Precious" rallied from twelfth spot last weekend to fourth spot, despite being shown in just 174 cinemas, versus the 3,000 for other top 10 releases.
It trails the life of an under-educated, overweight and abused African-American teen who becomes pregnant after being raped by her father.
It now looks to be replicating some of its festival circuit success at main-stream theaters, thanks in part to the high-profile backing of stars such as Oprah Winfrey, who was an executive producer.
Falling to fifth place was "This Is It," a compilation of footage of the late Michael Jackson as he prepared for a final world tour.
The film cashed in on an outpouring of affection for the star after his death earlier this year, and took in 5.1 million dollars in receipts this weekend, bringing its total earnings to 67 million dollars.
"The Fourth Kind," starring Milla Jovovich as a doctor investigating alien abduction, took in 4.7 million dollars in its second week in the charts.
"Couples Retreat" hung on to its spot at number seven, starring comics Vince Vaughn and Jason Bateman.
Falling three spots to number eight was "Paranormal Activity," a low-budget horror movie that earned 4.2 million dollars during its eighth week in the top 10.
At nine was "Law Abiding Citizen," a thriller about a man bent on avenging the deaths of his slain family, which took 3.9 million dollars in its fifth week in theaters.
"The Box," a horror flick starring Cameron Diaz and James Marsden as a couple who receive a mysterious and terror-filled box, rounded out the top 10.