Asha Parekh Prefers Shammi Kapoor Over SRK
Veteran Bollywood actor Asha Parekh prefers yesteryear's heartthrob Shammi Kapoor over Bollywood Badshah Shahrukh Khan when it comes to dancing. Parekh said in Panaji during the India International Film Festival that Shammi Kapoor, who was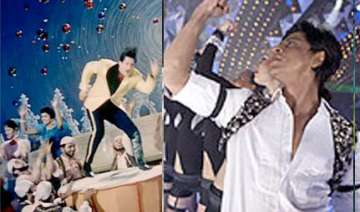 PTI
November 28, 2009 16:54 IST
Veteran Bollywood actor Asha Parekh prefers yesteryear's heartthrob Shammi Kapoor over Bollywood Badshah Shahrukh Khan when it comes to dancing.
Parekh said in Panaji during the India International Film Festival that Shammi Kapoor, who was his first co-star in 1959 'Dil Deke Dekho', continues to be her favourite actor till date.
When asked whom she considers a better dancer among Kapoor and Shahrukh, Parekh said, "Shammi Kapoor had lot of music and rhythm in his body. Shahrukh must be finding it difficult because he must have learnt it."
Parekh, who is being felicitated for completing 50 years in the film industry at the on going 40th International Film Festival of India, said that Kapoor, also known as India's answer to Rock 'n' Roll star Elvis Presley, is a born dancer.
The veteran actress who dominated the Hindi filmdom between 1959 and 1973 said that she is not out of the industry and still in touch with her colleagues including Wahida Rehman, Saira Bano, Sadhana and Helen.
"We often meet not that I am invisible in the film industry circle," she said.
While she was all praise for the directors of yesteryears, Parekh also expressed admiration for current generation of filmmakers including Suraj Barjatya, Farhan Akhtar, Priyadarshan and others. "They are very talented directors," she said.
Asha Parekh, who is known for her frank and forthright attitude, said that she refused to be cast with Dilip Kumar because of the simple fact that she did not like him.
When asked that why the audience did not see the two actors romancing onscreen, Parekh said, "Who I don't like I don't work with."
The 67-year-old actress is being felicitated for completing 50 years in the film industry at the ongoing 40th International Film Festival of India (IFFI).
She started her career as a child artiste under the screen name Baby Asha Parekh in the film 'Aasmaan' in 1952.  Thereafter noted filmmaker Bimal Roy saw her dance at a stage function and cast her at the tender age of twelve in 'Baap Beti' 1954.
Parekh's first lead role was in 1959 'Dil Deke Dekho' with Shammi Kapoor after which never she looked back.
Since then she has worked the biggest names of the tinsel town like Dev Anand, Rajesh Khanna, Shashi Kapoor, Jitendra, Manoj Kumar and Dharmendra to name a few.
The actress has been given special golden jubilee retrospective in the IFFI this year, which saw screening of two her films 'Dil Deke Dekho' and 'Kati Patang'.PTI