Big B Plays Witty Brat In 'Paa': Director
He has played a variety of roles in his career spanning four decades in Bollywood but megastar Amitabh Bachchan has turned the clock back by his latest avatar of a 13-year-old "witty brat" in director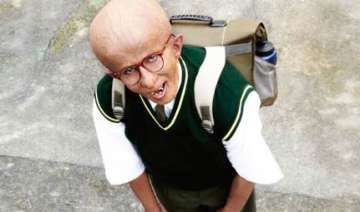 PTI
November 23, 2009 15:39 IST
He has played a variety of roles in his career spanning four decades in Bollywood but megastar Amitabh Bachchan has turned the clock back by his latest avatar of a 13-year-old "witty brat" in director R Balakrishnan's upcoming film 'Paa'. 
 "I think he has done a phenomenal job in playing the 13-year-old. Although intelligent and witty, he is playing a brat in the film. He is not spoiled but he is a brat," adman-turned-film director Balakrishnan told PTI. 
The 67-year-old star will be essaying the role of a child suffering from progeria, which accelerates ageing. 
International make-up artist Stephan Dupuis, who did Robin Williams' make-up in 'Mrs Doubtfire', was roped in to give Bachchan the special look in the film.  With blood veins prominent on his bald head and broken teeth, the actor looks five times his age as the 13-year-old 'Auro'. 
"The look is a very interesting one. It's a very authentic reflection of progeria patients and that is why the look works so well," Balakrishnan, popularly known as Balki, said, adding that managing Bachchan's appearance was not a daunting task for him. 
"I didn't have to manage him. He managed everything himself," said the 'Cheeni Kum' director, adding that he did not use any gimmicks or special effects in the film. 
"I have nowhere done any special effects or gimmicks in the movie to make Bachchan resemble a kid. And he is going to be of exactly his height in the film. We haven't made him smaller. But its because of the camera, he looks smaller when you see him in the film." 
In a role reversal of sorts, Abhisekh, the junior Bachchan, plays Big B's father while actress Vidya Balan essays the role of his mother. 
"The whole idea was to make a film with Abhisekh playing the father and Amitabh the son. It all began one day when I saw Amitabh pulling his son's leg after Abhisekh said something very mature. It was then when I said I will make a film with Abhisekh as the father of Amitabh," Balki said.
Interestingly, it was Balki's doctor who told him about the existence of progeria.
"I didn't wanted to make a film on a fictional disease where I child grows old. So I had kept the idea on hold till my doctor told me that such a disease actually exists," he said adding that the film is not about the ailment but about the emotional relationship between a father and son."  However, neither the director nor Bachchan himself ever met any progeria patients. PTI