Big B To Do A Cameo With Teja In Zanjeer Remake
Mumbai, Apr 3: Bollyood director Apoorva Lakhia has managed to persuade superstar Amitabh Bachchan to do a cameo in his remake of the cult film Zanjeer of the 1970s. Big B stormed Bollywood with his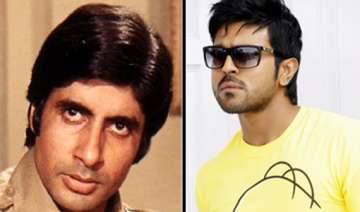 PTI
April 03, 2012 15:31 IST
Mumbai, Apr 3:
Bollyood director Apoorva Lakhia has managed to persuade superstar Amitabh Bachchan to do a cameo in his remake of the cult film Zanjeer of the 1970s. Big B stormed Bollywood with his angry young man role as Inspector Vijay.
A Mumbai Mirror report says, Apoorva Lakhia sought the Bachchans' complete consent before embarking on his ambitious project.
Going a step further, Lakhia even offered the lead role of Inspector Vijay to Abhishek before any other actor. But Abhishek declined saying he wouldn't want to put himself in direct comparison with father by doing any remake of his films.
That's one opportunity gone down for Abhishek, who could Have given Salman's Dabangg inspector a run for his money.
Apoorv Lakhia, along with producer Amit Mehra, son of late Prakash Mehra who produced and directed the original Zanjeer, decided to explore other opportunities.
The report quotes a source: "Apu and Junior (that's what Lakhia calls Abhishek), go back a long way. From the time Apu made his first film Mumbai Se Aaya Mera Dost, either Abhishek or his father or both have featured in all his films.
"Apu couldn't dream of doing Zanjeer with any other actor, except Abhishek."
"So the first thing he did when he decided to remake Zanjeer was to drive down to the Bachchan residence and offer Inspector Vijay's role to Abhishek."
With Abhishek refusing to play the part, Lakhia, for whom the project would be incomplete without Big B's presence, finally managed to get Bachchan Sr to do a cameo in his film.
Says Lakhia, "Right now, it's really too early to talk about the extent of Mr Bachchan's participation in Zanjeer. But yes, I can't dream of remaking Zanjeer without Mr Bachchan, Jayaji and Abhishek's participation. The project has their blessing and support. Beyond that, it's too early to say anything."
The report said Big B would soon be meeting the leading man of the new Zanjeer aka Telugu star Ram Charan Teja, with the latter having expressed a keen desire to seek the original Vijay's blessings and advice.
Lakhia has even written a scene where the new and old Vijay come together. That's something to look forward to.