Boldness Doesn't Mean Wearing A Bikini, Says Paoli Dam
Mumbai, Apr 7: Bollywood newcomer Paoli Dam has set the screen ablaze with her bold looks in the poster of her film Hate Story.Paoli says, "This movie's an erotic thriller and how can we saw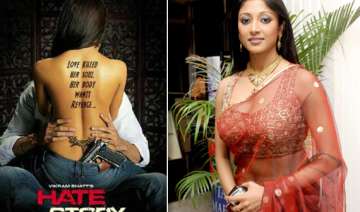 PTI
April 07, 2012 18:23 IST
Mumbai, Apr 7:
Bollywood newcomer Paoli Dam has set the screen ablaze with her bold looks in the poster of her film Hate Story.
Paoli says, "This movie's an erotic thriller and how can we saw stay true to the subject if we don't show bold sex scenes in film?"
"And once you see the film, you will realize that these scenes form an integral part of the film's plot."
"Moreover, I've always believed that boldness doesn't mean wearing a bikini. Actresses have been doing it since long."
"Boldness is saying yes to a script which demands an actor doing something that's not done before in mainstream films! This film is one of those!"
Asked whether such bold scenes would put the spotlight more on her bady than her acting talent, Paoli says: "You just have to wait for the film to release.
"The people who watch me cannot ignore my acting!"
Says Paoli, "The director Vivek Agnihotri ensured that we shot these (read erotic)  scenes after a comfort level was established between the actors."
"So, we were all okay. In fact, many of the most intense moments in the films were preceded with a lot of laughter and fun!"
Asked whether she's worried about being offered only bold and sexy roles in future, she replies, "I don't think so. I am playing Kavya in the film."
"What you see on screen is Kavya's character, that's not me! If I can play her with conviction, then it's a victory for me - the actor. And I'm sure that's what the audience and the industry will notice."