Britain's Next CHOC Model
Viewers of Britain's Next Top Model were in for a choc on Sunday night - as the beauties stripped off and got slathered in the stuff as part of the latest challenge, reports Today.The girls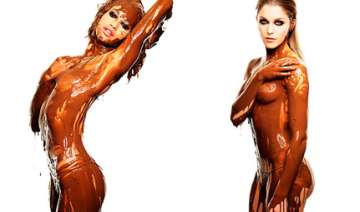 PTI
August 02, 2010 14:53 IST
Viewers of Britain's Next Top Model were in for a choc on Sunday night - as the beauties stripped off and got
slathered in the stuff as part of the latest challenge, reports Today.
The girls peeled down to just a thong before being doused in melted chocolate.
Charlotte didn't care about stripping, saying: "It's like a layer of clothing."
Amelia covered herself with her arms, while Kirsty paraded her svelte body.