Cheap Imitations Of 'Being Human' T-Shirts Flood Mumbai, Salman Upset
Bollywood star Salman Khan is reported to be angry and upset as  fake 'Being Human' T-shirts have flooded Mumbai's stores even before the official merchandise is yet to reach retail stores.  Salman has put his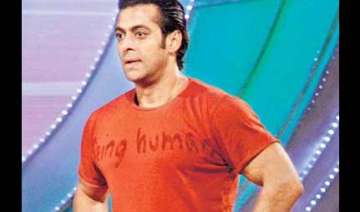 PTI
November 09, 2009 13:19 IST
Bollywood star Salman Khan is reported to be angry and upset as  fake 'Being Human' T-shirts have flooded Mumbai's stores even before the official merchandise is yet to reach retail stores. 
Salman has put his heart and soul in the Being Human cause, but he is angry over the cheap imitations of Being Human T-shirts  that are doing the rounds in the Mumbai market even before the official merchandise hits retail stores. 
"I'm aware of it. But I think those guys (who are buying and selling the fakes) should get aware that we are not out in the market yet. I want people not to buy them (the fakes) since the money (collected through genuine Being Human stuff) is supposed to go for a good cause," said Salman.
Salman is disgusted: "Some people are making imitations and by selling them, they are making money for themselves; but it's just not worth it. It's all because of somebody's cunningness and foolishness." Is he aware of the person leaking his designs? "I am not aware of such disgusting people," he asserts.