Dhanush Ditches Rakhi Sawant
Chennai, April 15: Kolaveri Di singer Dhanush called off his stage performance with item girl Rakhi Sawant at the last moment, causing heartburns to the lady in question. Rakhi was quite upbeat about performing to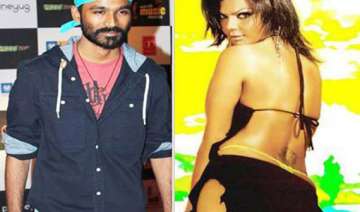 PTI
April 15, 2012 14:49 IST
Chennai, April 15:
Kolaveri Di singer Dhanush called off his stage performance with item girl Rakhi Sawant at the last moment, causing heartburns to the lady in question.
Rakhi was quite upbeat about performing to Dhanush's popular number, but when he pulled a no-show at the event, she was apparently seen fuming and showering abuses at him, says a media report.
Dhanush  says he couldn't make it because the release of his Tamil film, 3, fell on the same date and he was required in Chennai for promotions.
However, sources from the event  had a different story to tell.  Dhanush was reportedly  advised by his manager not to be seen alongside Rakhi Sawant till his movie was released.
Dhanush is pretty concerned about his image and wishes to be seen only with the right kind of people, the source said.
A source close to Rakhi says, Rakhi is upset.   She had rehearsed a lot for this event and was extremely excited about sharing the stage with Dhanush.