I Want To Be A Mom, Says Shilpa
Bollywood actor Shilpa Shetty-Kundra is right now feeling on top of the world. She also wants to be a mom, says a media report. Talk about motherhood, and Shilpa says:  "Oh yes! I certainly want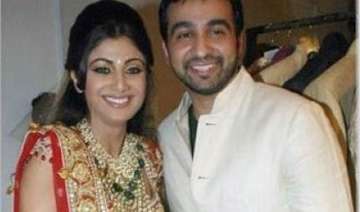 PTI
November 29, 2009 9:43 IST
Bollywood actor Shilpa Shetty-Kundra is right now feeling on top of the world. She also wants to be a mom, says a media report.
Talk about motherhood, and Shilpa says:  "Oh yes! I certainly want to be a mother. I can't wait to start our family."
Says Shilpa,   "Thank God, I plan to get married only once! This has been the most exhausting week of my life . And also the happiest. I've waited so long for my wedding. Outwardly, the only thing that's different is the choodas, and the way I'm dressed. Inside me, everything feels the same. I've known Raj for so long that it feels no different otherwise."
Shilpa recounts: "I have a severe jaw ache from all the smiling at the reception. Now I know why my colleagues avoid wedding receptions! It really does get impossible to manage the entire crowd." Apparently, there were more gatecrashers at the reception than guests.
 "At the wedding too, there were people climbing trees and walls to take photographs," Shilpa giggles. "But it was a far more intimate, private and controlled affair than the reception. Shamita kept saying that she felt she was part of a Punjabi wedding sequence from a movie!"
After her laughter finally subsides, Shilpa says soberly, "The wedding was very traditional and simple. I felt I was going through a dream. My marriage was exactly the way I had imagined it."
The Kundras will now leave for their honeymoon in the Bahamas, followed by a Mediterranean cruise for the entire family.
Says Shilpa, "We're going to the Bahamas for our honeymoon. Then after we return, Raj is taking our entire family, all the Shettys and the Kundras, on a Mediterranean cruise for Christmas. He thought everyone needed a break."
On her future plans, Shilpa says, "I have to get acquainted with Raj's circle of friends in London, get used to socialising with them.Yes, we'll have two homes now. In any case, I was always travelling to and fro. Now I'll be doing this even more! I have my film-production company in Mumbai. So I can't be in London only."