Katrina To Accompany Ex-Flame Ranbir On World Tour
Mumbai, Jan 16 : Bollywood stars Katrina Kaif and Ranbir Kapoor are due to go on a World Tour to UK, US and Canada in August this year, says a Mumbai Mirror report. Ranbir and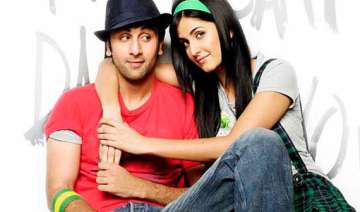 PTI
January 16, 2012 14:42 IST
Mumbai, Jan 16 : Bollywood stars Katrina Kaif and Ranbir Kapoor are due to go on a World Tour to UK, US and Canada in August this year, says a Mumbai Mirror report.

Ranbir and kat had split early last year, because of which Ranbir's mych-hyped World Tour suffered. Ranbir had to call off his tour, but now the two have patched up,.

Now, as a show of maturity both Katrina and Ranbir have decided to work together professionally again and will topline the World Tour lineup, says the report.

A member of the tour production team said: "He has no issues about Katrina's inclusion. Katrina has given her consent."

But will Katrina be comfortable on stage with Ranbir "Now that remains to be seen,"says her friend.

"Besides,we do not know how the performances are being planned,whether Ranbir and Katrina will perform together or not."

Katrina's decision to join Ranbir- in whatever capacity- is bound to raise eyebrows.Not too long ago, Kat had opted out of Ayan Mukerji's film starring Ranbir.

This rapprochement may have been a result of Ranbir's recent moves to make peace with his ex-es and their current boyfriends.

It took him a while to make amends with Deepika, but he is now doing a film with her, the same Ayan project which Katrina refused.

Ranbir has even spotted bonding with Deepika's current flame Sidhartha Mallya.The report said,  Priyanka Chopra and Shahid Kapoor too may join the tour team.