Koda Did Not Pay Me Rs 50 Lakh, Says Koena Mitra
Bollywood's budding actor Koena Mitra, who had been promoting Jharkhand as an investment destination for Non-Resident Indians (NRI), has landed herself in a controversy. It is now alleged that disgraced former Jharkhand Chief Minister Madhu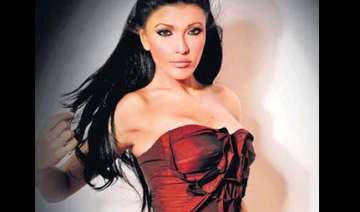 PTI
November 10, 2009 10:51 IST
Bollywood's budding actor Koena Mitra, who had been promoting Jharkhand as an investment destination for Non-Resident Indians (NRI), has landed herself in a controversy.
It is now alleged that disgraced former Jharkhand Chief Minister Madhu Koda - who has grabbed national headlines and faces arrest on charges of laundering Rs 2,500 crore - had paid the actress Rs 50 lakh to be the face of the state, but Koena denies that, reports a Mumbai newspaper.
Koena claims that she did it as a favour. "I did it without charging any fee. As a token gesture however they gave me Rs 3 lakh followed by another Rs 11,000 besides a shawl, chocolates and flowers. I also got first-class treatment from them. But I haven't got any Rs 50 lakh from him."
Says Koena, "They asked me to promote Jharkhand because I am from West Bengal and speak Bengali fluently. I spoke on Jharkhand as a goodwill gesture. I am not the face or brand ambassador of the state. They had invited me to speak through friends."
Koena says, "Being the face of the government is not a small matter. Everything is done officially through paperwork and if any payment is made, it has to be through cheque. But I have neither.  … Madhu Koda introduced me to the media as a daughter of Bengal. But because of all that they shouldn't take for granted that I am the face of Jharkhand."
Earlier this year in January, Koena had stated, "I request investors to come to Jharkhand and get a feel of its potential. I am happy that I have been asked to promote the state as an investment destination. I have strong ties with the state, as I am a Bengali from Kolkata, which is barely 500 kilometres from Jharkhand."
Koena  chooses to wash her hands of the matter. "There were two conferences I attended - one in Delhi and one around Bhubaneshwar - and both were in front of the media. They were not private functions. They wanted foreigners to come to Jharkand as it had lots of potential. It was image building for the state. I merely went and spoke a few words and that was it."
 Madhu Koda and eight others have been accused of amassing property worth crores of rupees in UAE, Thailand, Indonesia, Singapore and Liberia.