Lithuanian Who Threw Dog Off Bridge Brought To Justice By Net Users
Svajunas Beniul, a Lithuanian, who threw a dog off a bridge and then posted the video clip  on the net has been  hunted down by a Facebook mob who were furious after watching  the video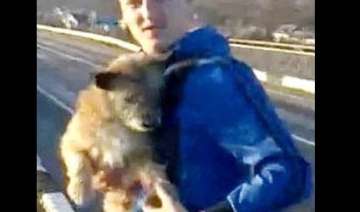 PTI
November 20, 2009 12:35 IST
Svajunas Beniul, a Lithuanian, who threw a dog off a bridge and then posted the video clip  on the net has been  hunted down by a Facebook mob who were furious after watching  the video footage, reports The Mail, London (watch)
Beniuk had posted the clip showing his cruel actions on a Lithuanian website.
But the mobile phone footage swiftly circulated the world, horrifying thousands and forcing him to hand himself in to the police for his own protection.
Then, horrifyingly, Beniuk raises the dog over the railing - and lets go
Beniuk turned himself in after an international internet campaign unmasked his identity
The footage starts with Beniuk carrying the dog to the side of a bridge.
He speaks to the camera and makes a joke about filming proof that 'dogs can fly'.
While the animal sits calmly in his arms, Beniuk scans the traffic to make sure no cars are coming.
The footage, meanwhile, captures a second man, also filming the main culprit on a mobile phone.
Then, when the coast is clear, Beniuk calmly drops the dog over the side of the bridge.
Miraculously, the animal survives - and, to viewers' horror, can be heard crying in distress over the roar of the traffic.
The dog was rescued and is receiving treatment for multiple fractures and internal injuries.
The video is shocking, with most websites barring its full content.
Astonishingly, the dog is expected to survive. It is pictured here receiving treatment for multiple internal injuries
Beniuk is expected to be charged with animal cruelty.
Beniuk was cornered after outraged Lithuanian internet users joined forces with animal lovers around the globe to piece together his identity.
Working with the authorities, they soon realised that the dog was dropped from a bridge in the Vilkija district in Kaunas, the second largest city in Lithuania.
Online hackers then found out the man's identity - Svajunas Beniuk - as well as his address, email address and Facebook profile.
Local police promptly took up the case and later issued a statement thanking users of the website 15.min.it, in particular, for helping them to identify the culprit.
It is believed that Benuik will be charged with animal cruelty. The dog is expected to survive.