Los Angeles 'Octomom' Nadya Rears Her Octuplets
As eight hungry babies howl for their supper, their mother Nadya Suleman holds up her hands and says with a weary sigh: ' Welcome to the music of my house.'Within seconds, the children's four full-time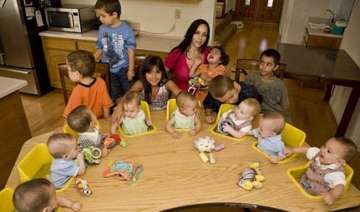 PTI
November 11, 2009 10:01 IST
As eight hungry babies howl for their supper, their mother Nadya Suleman holds up her hands and says with a weary sigh: ' Welcome to the music of my house.'
Within seconds, the children's four full-time nannies start the well-rehearsed process of seating the children at their specially made semi-circular table with its eight bright yellow plastic seats, says a report in The Mail, London.
Gradually, the noise subsides and a greedy, slurping calm descends as each is given a bottle.
 Nadyaos octuplets are : From left: Makai, Jonah, Isaiah, Maliyah, Nariyah, Noah, Josiah and Jeremiah
Nadya achieved overnight celebrity last January when she gave birth to the world's second surviving set of octuplets - the first set, the Chukwu children of Houston, Texas, will shortly celebrate their 11th birthday.
But fascination with the so-called 'Octomom' turned to almost universal revulsion when it was revealed that the 34-year-old is single, unemployed and already had six children under the age of eight.
All 14 of her brood were conceived through IVF using the sperm of Nadya's ex-boyfriend, a man who says he wants no part in their future.
Even worse, she was claiming £2,500 a month from the state of California in food stamps and benefits.
Multi-million-dollar endorsement deals from nappy and baby-food companies were quickly rescinded.
Nadya received dozens of death threats, had an army of paparazzi camped on her doorstep and became the butt of tawdry jokes.
But today they live in a detached, four-bedroom house in a quiet cul de sac in a family neighbourhood of Los Angeles, bought from the proceeds of a £500,000 deal with an American magazine.
And it is impossible not to be moved by the sight of eight ten-month-old babies lined up at dinner time.
They are, Nadya insists, remarkably healthy and are regularly tested. 'They are still young, but at the moment they are perfect. If they do develop problems, we will deal with it. But, touch wood, they are good so far,' she says.
Cover up: Miss Suleman drapes blankets over her babies as she takes them for a walk earlier this year
Nadya is a slight figure, weighing just eight stone - down from her pregnant weight of 17 stone. Her jet-black hair is blowdried to perfection and her nails are coated in a flawless French manicure. Her make-up is immaculate and she speaks in short, staccato sentences. 
It is a warm Californian afternoon and the octuplets are taken into the garden by two of the babies' four full-time assistants. Nadya's three eldest children Elijah, eight, Amerah, seven, and Joshua Jack, six, are still at school.
Her severely autistic four-year-old son Aiden is asleep upstairs, as are her three-year-old twins Calyssa and Caleb.
Her father Ed was born in Palestine and is a translator in Iraq. Her mother, Angela, is a Lithuanian retired teacher who lives 15 minutes away from Nadya.
The two women are estranged after Angela said in an interview that her daughter was 'an unfit mother' whose actions were 'unconscionable'. Says Nadya: 'My mum never stopped telling me that she didn't want children. I was
always so lonely. When I played with dolls, I always had mummy and daddy and at least ten babies. I longed for babies. I had a hole inside that I knew only babies would fill.'
She was married at 19, but the relationship crumbled after she suffered a series of miscarriages and was told her only hope of motherhood lay with IVF. 'I realised it wasn't him I loved, it was the idea of a family,' she says bluntly. 'We were finished after a couple of years.'
At 24, Nadya was injured during a riot at a psychiatric institution where she worked. She was awarded £150,000 compensation and her quest for children began through a fertility clinic: 'I had this platonic friend. He had been more than a platonic friend on one occasion, and I asked him to help. To my surprise he said "yes".
'Once Elijah was born, I knew I wanted more. I did it with the donor's knowledge. He made sperm donations six times. I kept going back. When I held my babies in my arms, I felt a love and a bond I had never known before. Each time, I felt happy and then a few months later I knew I wanted more.'
Did she ever feel concerned about bringing so many babies into the world without a father? 'Looking back, I admit I made immature decisions. I wanted children to fill a hole in me. Perhaps it was selfish. Some people get addicted to drugs. I got addicted to having babies.'
She says she planned to have 'only one more' when she was impregnated with six embryos - two subsequently split to produce a total of eight babies.
Medical protocol says that only two to three embryos should be implanted in cases such as hers and her doctor, Michael Kamrava, has since been expelled from the American Society for Reproductive Medicine.
The last time she spoke to the biological father of her children - who is now married - was shortly before the birth of the octuplets. 'I called him and told him I was expecting and he said, "Not twins again" and I said, " Carry on" and he got all the way through the numbers three, four, five . . . when he got to seven, I said, "Yup."
There was just silence on the other end of the line. Then he hung up. I've not heard from him since.' Her eight babies were delivered on January 26 --Noah, Maliyah, Isaiah, Nariyah, Jonah, Jeremiah, Josiah and the surprise baby Makai, who had not been detected during her pregnancy.
'When I came home, I thought people would love me,' she says. 'But I was getting hate mail and death threats. I just cried and cried.'
She insists she currently does not take a penny from the state, surviving instead on money she earns from photographs of the octuplets and various television projects. Her finances are handled by her lawyer, Jeff Czech, who pays her bills and has set up individual trust funds for each of the octuplets. She bristles when asked if she is 'cashing in'.
'Look, I'm damned if I do, and damned if I don't,' she says angrily. 'I don't take money from the state and I have to put food on the table. My costs are enormous. I can't go out and get a conventional job because my babies need me here. So the one thing I can sell is them but if I do that, people attack me.'