`Madhushala' Released In A New Format
`Madhushala - The House of Wine', a book designed in a format that contains both the original and English translation of poems side by side, interspersed with illustrations of paintings done by Namrita, niece of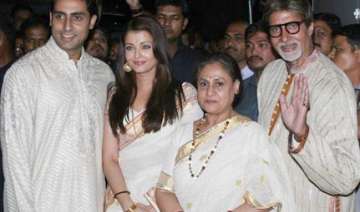 PTI
November 30, 2009 23:09 IST
`Madhushala - The House of Wine', a book designed in a format that contains both the original and English translation of poems side by side, interspersed with illustrations of paintings done by Namrita, niece of megastar Amitabh Bachchan, was released in Mumbai . 
The Bollywood icon released the book on Saturday to commemorate the 102th birth anniversary of his father late Harivansh Rai Bachchan. 
`Madhushala', an eternal creation by Harivansh Rai, is still celebrated for its artistic genius and the nostalgia from the days when the poet himself presented it on stage much to the audience s delight. The poetry is as alive today as it was when the live audience listened to the recitations, spellbound to the message and beauty. 
The book launch was organised by the Bachchan family and Bhartiya Vidya Bhavan. The original book in Hindi, `Madhushala', was conceptualised and written in 1933-34, with its first publication in 1935. 
The highly metaphorical work played an important role in the `Chhayavaad' (shadowism) literary movement, which marked romantic upsurge, of early 20th century Hindi poetry. It is still venerated for its Sufi intonations and philosophical undertones. 
On the occasion, a poetic recitation of Harivansh Rai's select poems by Bachchan and members of the family captivated the audience.