Milind Soman, Madhu Sapre Acquitted In 14-Year-Old Obscenity Case
A Mumbai court on Friday acquitted models Milind Soman and Madhu Sapre in a 14-year-old obscenity case. A case of obscenity was slapped against the two models in August 1995 by the social service branch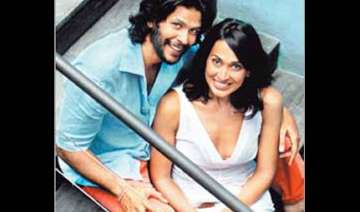 PTI
November 28, 2009 12:11 IST
A Mumbai court on Friday acquitted models Milind Soman and Madhu Sapre in a 14-year-old obscenity case.
A case of obscenity was slapped against the two models in August 1995 by the social service branch of the Mumbai police after Sapre and Soman posed virtually in the nude, wearing only shoes and a python wrapped around them, for an advertisement campaign.
All the eight accused including the publishers and distributors of two magazines that featured the ad, the advertising agency and the photographers were given a clean chit after the 'panch' witnesses turned hostile.
The seized copies of the magazine were also never produced as evidence in the court.